This Detoxifying Beet Juice recipe is a refreshing drink that is so easy to make and tastes great. You only need six ingredients for this healthy recipe.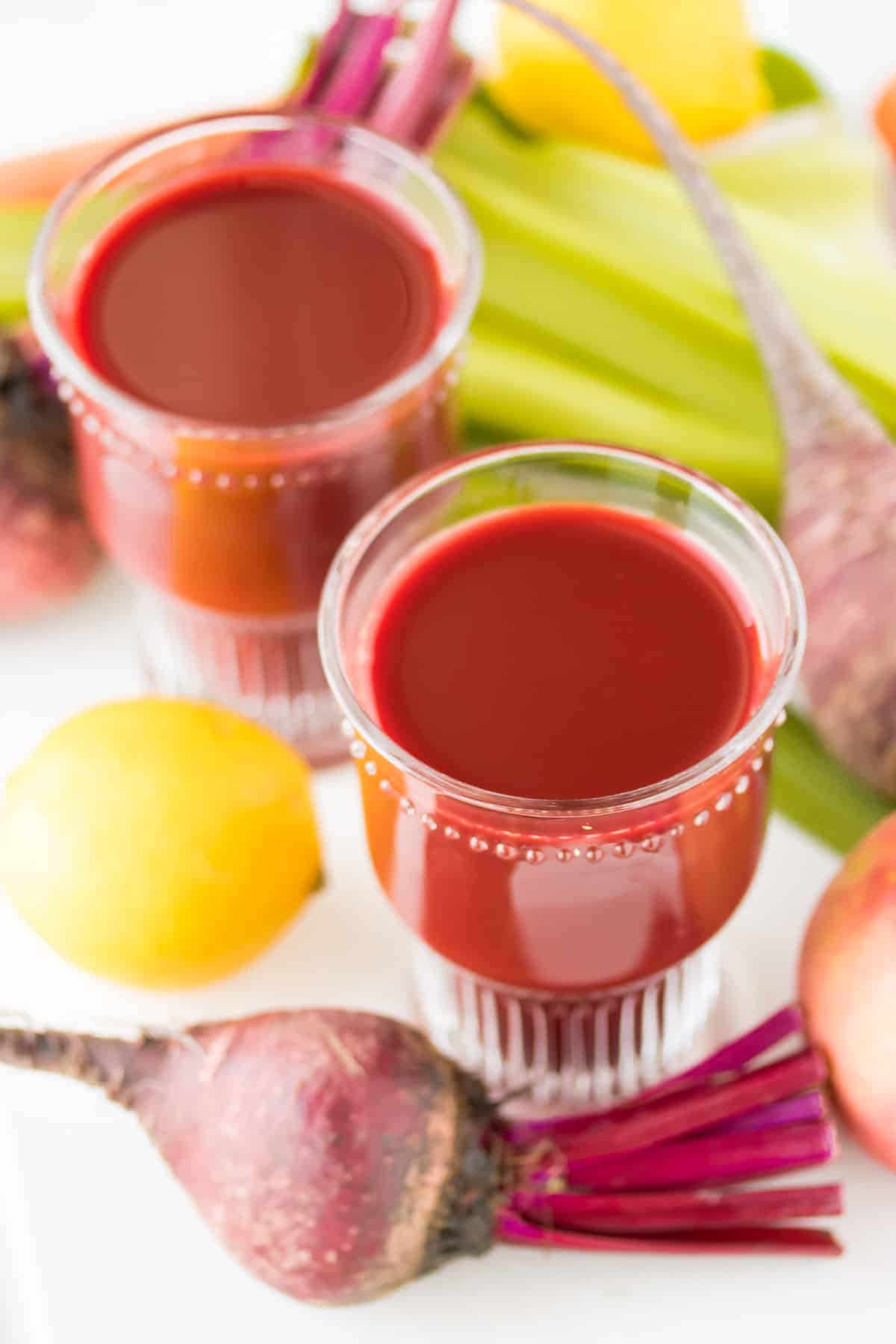 Beets are one of those vegetables that are under appreciated. They can be consumed raw or cooked, and they have the most delicious, sweet flavor. And, beets are incredibly healthy and immune-boosting, too. 
Beets are perfect in a juice, too, because they are naturally sweet. They are generally available all year round; just look for them in the produce section of your local grocery store. 
Detoxifying Beet Juice Recipe Video
While you can certainly just use beets to make homemade beet juice, it's nice to add some other healthy fruits and vegetables to help balance the flavors. Some people complain that beets taste "earthy." But, if you've never tried this recipe, that I think it will change your mind. 
Ingredients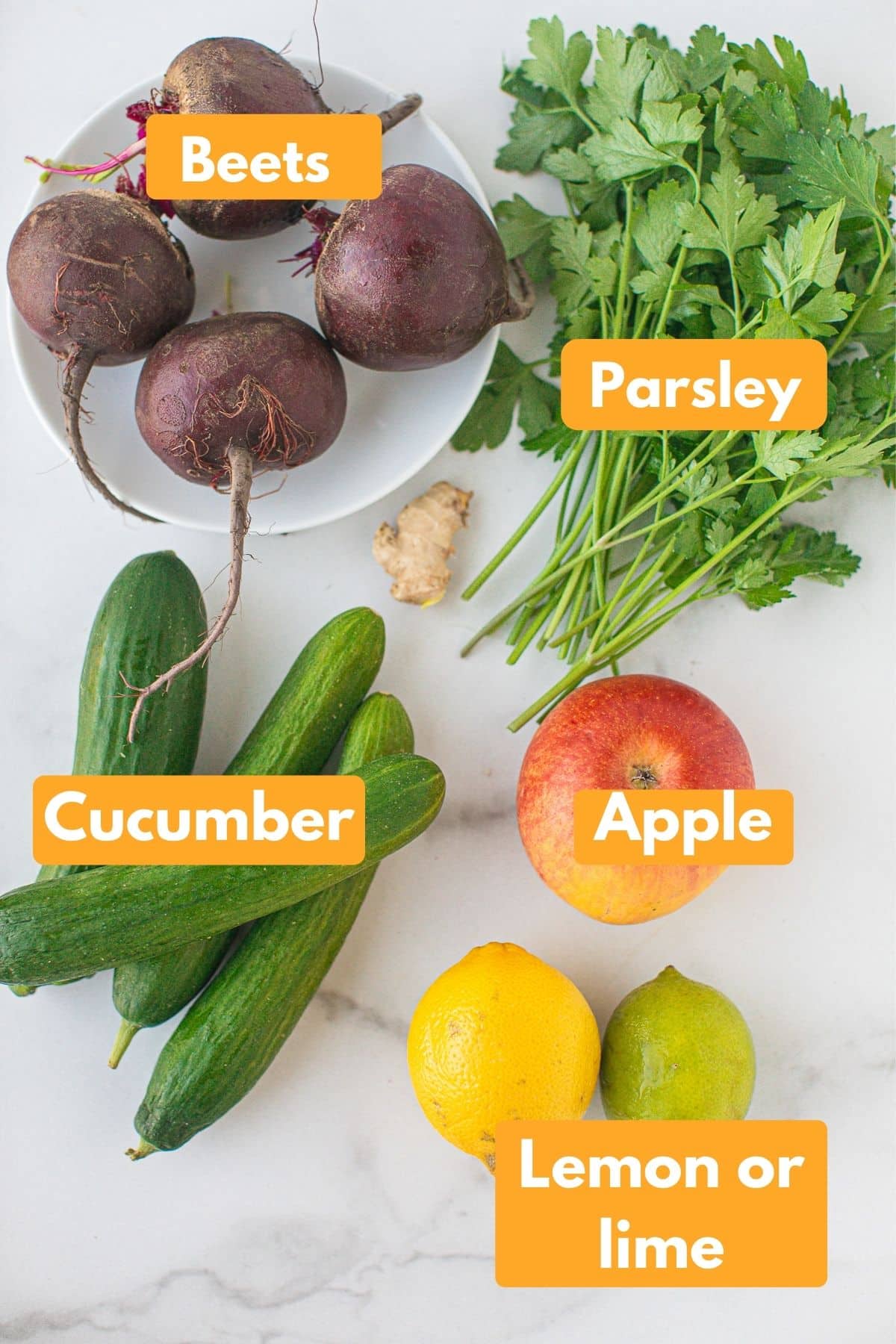 The ingredients in this homemade Beet Juice recipe all support the body's natural detoxification system. Beets are known especially for aiding detox, and they have many other health benefits too. Beet juice has even been studied for its role in lowering blood pressure and increasing energy. 
Parsley, apple, ginger, and lemon are all great foods full of nutrition with detox-supporting properties. I've included cucumber in this beetroot juice recipe to help dilute the strong beet flavor, and to add a neutral balancing effect to the overall juice. I'm telling you, this juice recipe is a winner!
Recipe Steps
Step One
The most time-consuming step in making any kind of homemade vegetable juice is to wash and prep the vegetables. For this recipe, you just need to remove the beet greens, cut off the ends of the beets, and then chop them into pieces that will fit through the feeding tube of your juicer.
See how to pick the best juicer for your budget and needs. This is the juicer that I have and recommend.
You'll also need to cut the peel off your lemon and ginger.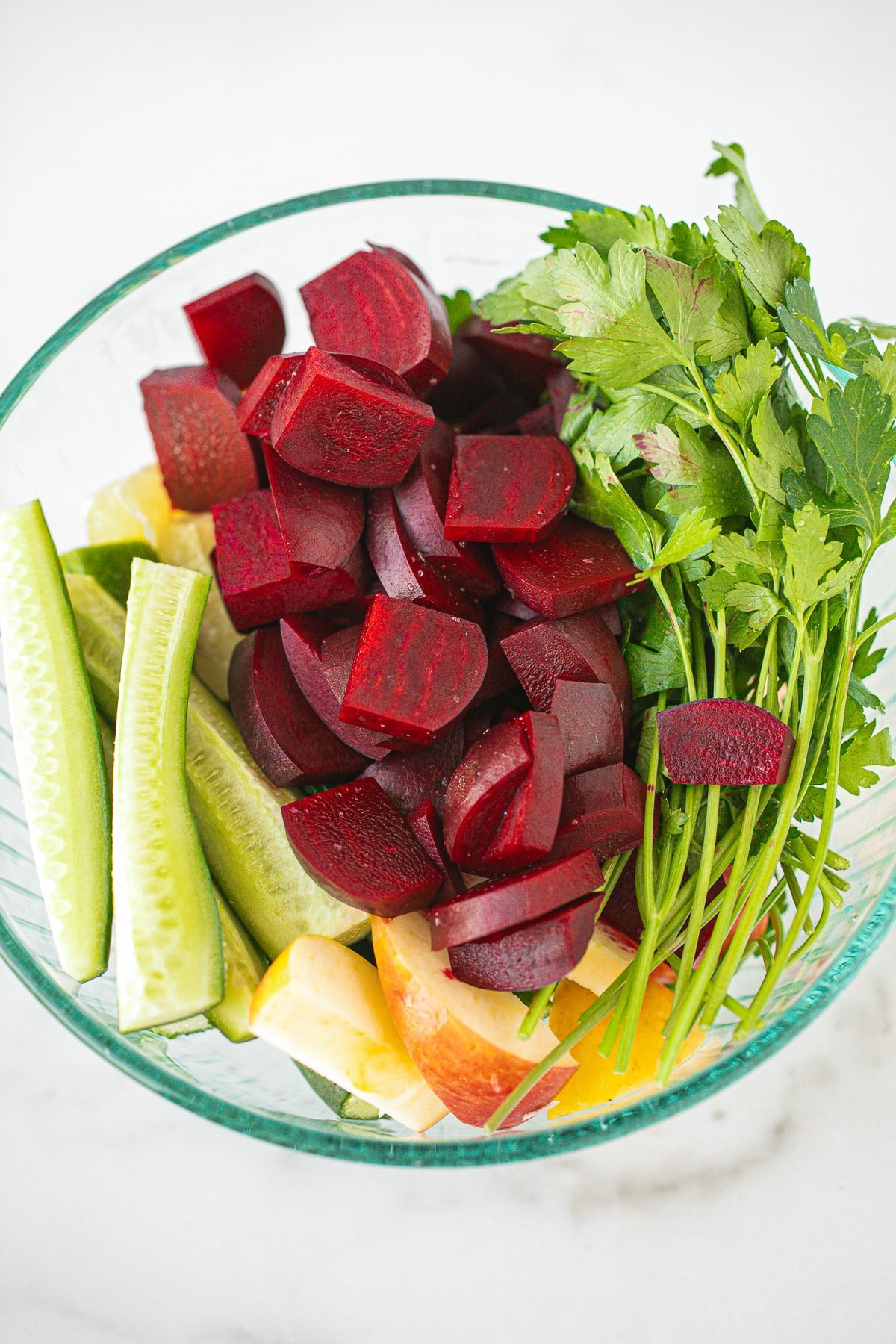 Step Two
You can also use a high-speed blender to make juice, but you'll have to strain the pulp out if you use a blender (see the notes in the recipe card at the end of this post for full blender instructions). 
It's also interesting to note that even using just one large beet will turn the juice red, no matter what other vegetables are included.
So, once your veggies are prepped, you'll need to feed them through your juicer. Fresh beetroot juice is just so pretty, don't you agree?
Step Three
The last step is to serve your fresh beet juice. Most fresh juices should be consumed right away, if possible. But, you can also store homemade green juices in a tightly sealed container for up to 2 days.
FAQs
Can I drink this beet juice everyday?
Yes, you can drink beet juice everyday as long as you don't have any troublesome side effects, such as digestive distress. You may also want to monitor your blood pressure if you are drinking beet juice to lower blood pressure. 
What are the benefits of beet juice?
Most vegetable juices have the benefit of having a high antioxidant and vitamin content, especially when consumed immediately after making the juice. The benefit of juicing is that you don't have to digest all of the fiber from the juice. Learn more about beet juice benefits.
More Healthy Juice Recipes You Might Like
Or, if you want to use your beets whole, try my Strawberry Beet Smoothie recipe. 
Watch me make this recipe on YouTube using a blender instead of a juicer.
I hope you make this recipe! If you do, please leave a comment and a starred review below.
And, consider following me on social media so we can stay connected. I'm on Facebook, Pinterest, Instagram, and YouTube!